Slow Food produces fresh produce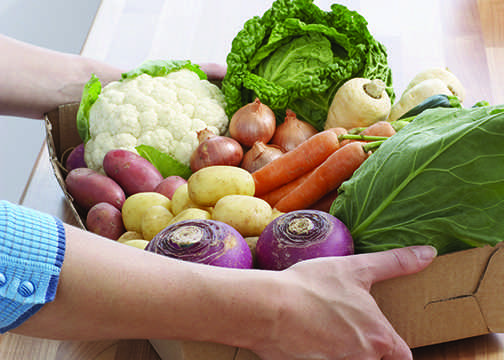 Promoting sustainable eating habits while providing local and organic food to the San Diego State community is what Slow Food SDSU is all about.
The organization can be found Thursdays at the SDSU Farmers' Market where it provides biweekly veggie boxes for students and staff. The $25 veggie boxes, which must be pre-ordered, contain a variety of organic and locally grown produce from Suzie's Farm, a 140-acre USDA-certified organic farm located near Imperial Beach.
The international organization first got its start at SDSU by delivering fresh produce boxes to a couple of staff members. Word eventually spread and interest for the veggie boxes grew. With a push from Slow Food Urban San Diego board director Jennifer Leong, a student chapter, Slow Food SDSU, was started.
Slow Food provides the SDSU community with fresh organic produce that does not compare to the produce bought at a super market. The produce is grown in San Diego by farmers who are passionate and knowledgeable about providing the community with healthy produce.
Anthropology senior and Slow Food SDSU treasurer Sean Tangco said the local organic produce helps community members become environmentally sound.
"You know where your vegetables are coming from and you build a relationship with the farmers who grow your food," Tangco said. "You know exactly what soil and what pesticides are being used to grow your vegetables."
Supporting local agriculture such as Suzie's Farm is a cause that Tangco and Slow Food SDSU president Abbey Hensley are both passionate about.
Hensley said the veggie boxes are a great way to support San Diego's economy.
"You're helping support the local economy because you're buying from a local farm and the money stays here in San Diego," she said.
Slow Food helps garden and grow produce in their community gardens at the Agape House located on Hardy Avenue and the College Area Community Garden.
Slow Food has partnered with The Agape House's community garden and feeding ministries. Their mission is to end student starvation. Slow Food helps them develop and maintain their community garden as well as attract people to grow their own food.
Hensley said community members can come and grow their own food or simply help out with the garden. Members of Slow Food and the Agape House are happy to instruct people if they are new to gardening.
Slow Food welcomes all SDSU students to join and hang out with them as they explore and volunteer at urban farms around the San Diego community.