Dance the night away for kids who can't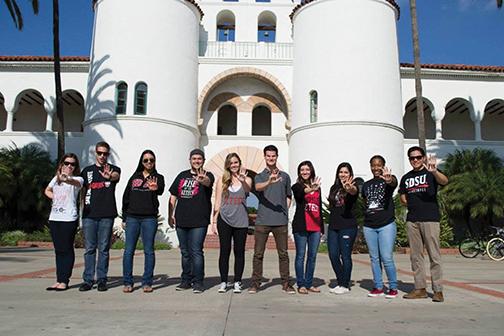 On March 6, San Diego State will be hosting its first Dance Marathon. All Aztecs are being asked to participate in 12 hours of themed dancing, activities and inspirational stories, with 100 percent of the proceeds going to the local Children's Miracle Network Hospital, which in San Diego is the Rady Children's Hospital.
In 1991, students founded Dance Marathon in the memory of a fellow student. Dance Marathons have since become a tradition at schools across the nation.
According to the Dance Marathon website, last year college Dance Marathons raised more than $8 million.
Dance Marathons occur around the nation at more than 250 schools per year. While Dance Marathons have been attempted at SDSU before, the teams involved failed to reach the desired goals. Founder and Executive Director of this year's Dance Marathon Emily Carper is one of the people who helped bring the Dance Marathon back and who has no intentions of failing.
"The point of this year's Dance Marathon is to create a tradition at San Diego State that brings the entire school together and will be engrained in our campus," Carper said.
Dancing for 12 hours may seem daunting, but Carper said there will be plenty of other activities occurring. The only rule is that participants must stand for the entire 12 hours. This coincides with the slogan, "For the kids," or FTK. When a participant registers,  he or she makes the pledge to stand for the kids who can't. When registering, the participant or team is assigned a child, altogether called "Miracle Children." Together, they can dance, play games and make posters. The teams who raise them most money will be awarded prizes throughout the night.
The 12 hours of dancing will be broken up into 12 different themes.
"A variety of campus clubs and teams will be present to teach dances. There will be a 'hype squad' going around keeping everyone active, and at the half-way mark, at six hours, there will be an hour of black light dancing," Executive Board member Ryan Smith said.
Participants need not worry about their dancing skills. At the top of each hour a campus club or team will teach a dance. Clubs include the Salsa Club, an a cappella group and the SDSU Dance Team.
Rady's Children's Hospital does not turn away a single family regardless of insurance circumstances.
Who doesn't love dancing?And for a good cause, it's a win-win.
FTK sees this as opportunity for SDSU to help out a great organization within the community.
"While we have many goals for the night the main purpose for this first event is to spread awareness," Carper said.
Registering for the dance is $12 and the participants will recieve a goodie bag with a t-shirt, two meals throughout the evening and snacks.
"I can't wait," participant Brook Armstrong said. "I love giving back to the community and I love the culture here at State, so this brings the two together. It should be a fun night."
The Dance Marathon will occur from 8 p.m. March 6 to 8 a.m. March 7 in the basketball courts in the Aztec Recreational Center.
"Who doesn't love dancing?"  participant Karan Mitchel said. "And for a good cause, it's a win-win."
The Dance Marathon will occur from 8 p.m. March 6  to 8 a.m. March 7 in the basketball courts in the Aztec Recreational Center.
"While all Greek organizations have their own charities and causes that they work for, this is an event that the entire school can get behind, that's what's great about it," Smith said.