Aztec football inks top-notch recruiting class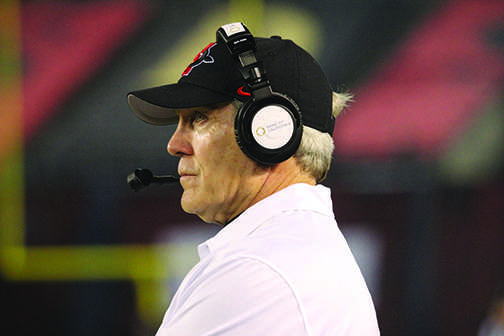 San Diego State football head coach Rocky Long announced his recruiting class of 2015 last Wednesday, which included 23 players who signed their national letters of intent and 28 players in total.
The haul of signees had Long excited, not because he was able to sign one star player in particular, but because he was able to recruit players that he regards as very talented athletes in general.
"Ninety percent of these guys are two-sport athletes," he said. "Several of them play basketball or baseball as well as football. Some of them are three-sport athletes that run track also,"
So athletic, in fact, Long said he doesn't think he's ever had a class like this one.
This was a part of his mission, though, in order to counter the spread and triple option offenses that most teams in the Mountain West run.
"Last year we played three triple-option teams, we played about five spread teams and we played two pro-style teams. You have to have athletes," Long said. "We specifically went out to get dual and triple-sport athletes because of the kind of offenses we have to adjust to. You have to have big, strong, tall athletes that can play a bunch of different positions."
Long credited recruiting coordinator Tony White for going out and getting exactly what he believed the team needed.
"It's a class of really good athletes and a gigantic offensive line. That's what I told Tony (White) we needed, and the coaches did a nice job of getting them."
Another coach who did a nice job recruiting was newly hired offensive coordinator Jeff Horton.
Horton spent last season as the team's running backs coach before Long hired him as the offensive coordinator this offseason.
He had the duty of recruiting players from several different places in the country, including Texas, where six of the Aztecs signees came from, the second most by state behind California, which had 16 of the recruits..
"He was in Texas and did a great job of recruiting in Texas," Long said of Horton. "A couple of the other spots in California were kind of left unattended for a while with the change in the coaching staff. So you get players where you can get players. We're actually a little disappointed. We thought we were going to get one more guy from Texas than we did."
One player from Texas that Aztec fans should keep an eye on is quarterback Ryan Agnew.
Agnew was a three-star quarterback coming out of high school and his athletic ability may force the Aztecs out of the pro-style offense they have run under Long and move them into a spread offense.
It's unlikely that Agnew will grab a starting spot in his freshman year and he may be a redshirt candidate, but he's a name to keep in mind down the road.
While Long was excited about his players that he signed out of Texas, it's hard not to notice one place where he did not sign many players: San Diego.
In fact, the Aztecs signed just one player out of a San Diego high school and that was wide receiver Jack Bailey out of Torrey Pines High School.
There was a simple explanation for this, though.
"In our opinion, there weren't as many senior football players (in San Diego) that we thought were Division I caliber," Long said. "There was about a third of what normally comes out of San Diego."
If you're looking for a star player out of this class that may be four-star linebacker recruit Kyahva Tezino, who may be able to make an impact right away in a depleted Aztecs linebacker core.
All in all, Long put together an impressive group of players that he hopes can continue SDSU's bowl-game streak, which currently sits at five.
The team will begin spring practices on Feb. 22 and will play its spring game on March 25.