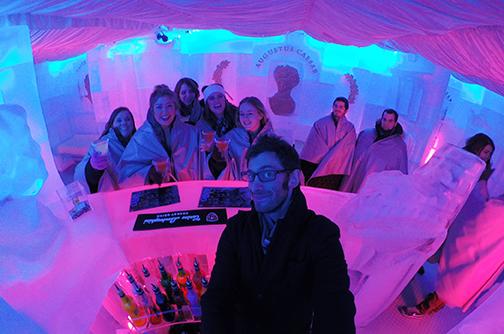 Elli Brown, a kinesiology junior at San Diego State visited Italy for the first time through a winter study abroad program earlier this year. Because she is half Japanese, she travels to Japan every other summer with her family, but this trip was her first time in Europe, and her first time traveling alone. She didn't catch any bed bugs from the hotels, but she did catch a major travel bug and lifelong memories on her GoPro camera.
Brown, who was born in Las Vegas, said she returned from Italy in awe and now wants to travel the world and continue capturing footage to share with everyone else.
"It was the best purchase of my life," she said of her GoPro camera.
Brown enjoys filming fun things she does, and plans on making many more videos.
There were 24 travelers in her group — two from San Diego Mesa College, a few from the University of Wisconsin and the rest from SDSU. All were kinesiology majors. Brown said she didn't know anyone prior to the trip but they all became very close while traveling together.
The trip curriculum consisted of one class; Connecting Art and Science in Italy. Part of what makes any study abroad experience extraordinary is the instructors. San Diego Miramar College Biological Sciences professor Kevin Petti traveled everywhere with the group, teaching the class in the various cities.
"He was really laid back, but he knew his stuff," she said. "I've never met a teacher like that."
The trip lasted two weeks, from Jan. 3 to Jan. 12, 2015. The group spent four nights in Rome, four nights in Florence, three nights in Bologna and three nights in Padua. They also took day-trips to Venice and to Assisi. Every day included time with the instructor, museum visits and some incredible food. There was plenty of sightseeing and adventuring as well.
Upon landing in Rome, Brown said her initial impression of the city was that it looked a lot like farmland, much to her surprise. Once they arrived in Vatican City, however, Brown was awestruck by the picturesque city.
"I was looking out the window, and I was just in awe," she said. "I couldn't believe it."
Brown held the Italian food in high esteem.
"I'm not really a big pizza person, but the pizza there was so good," she said. She said she tried everything she wanted to, except for eggplant parmesan.
Rome was Brown's favorite city of the entire trip. She and some others went to an ice bar, which is a bar where everything is made out of ice, including the cups, seats and bar.  Brown said it was "super cool," not surprisingly.
It's no wonder Brown can't wait to travel again.
"Even if we stayed there, in Rome, for the full two weeks, I feel like I wouldn't have had enough time," she said.
She wants to take on London for her next trip. She's also decided she's taking five years to travel the world after she graduates. She plans to go to Australia and get a work visa.
Brown wants people to travel vicariously through her videos, which can be watched on her YouTube channel. Check out her Italy video, SDSU Study Abroad Italy 2015. Vibrant and fun to watch, Brown's videos showcase her Italy experience online. Even one of her professors features her Italy video on his website.
In addition to her videos, Brown got the idea, while in Italy, to keep a book of postcards from different cities she visits. So far, she has five, and plans on getting more from Japan this summer. Between the postcards, pictures and videos captured on her GoPro, Brown has, and will continue to keep many keepsakes from her trips.  Maybe some will even be inspired to study abroad and make videos of their own.