Fashion advice from a long-lost sister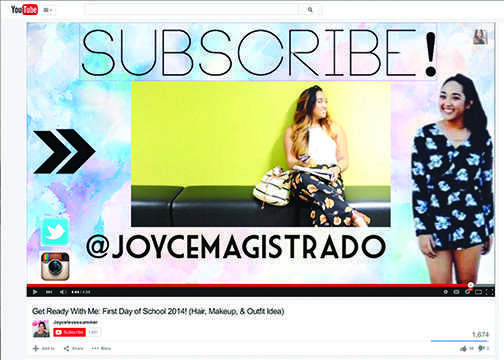 YouTube can make anyone famous, for both good and bad reasons. The videos on the website can be used for entertainment, but there are a few instances where users can actually find something beneficial. For media studies sophomore Joyce Magistrado, this is what fuels her YouTube inspiration.
Magistrado is the owner, creator and director of her own YouTube channel called "Joyce Loves Summer." The channel and its name was an idea Magistrado wanted to make a reality as early as her sophomore year of high school. Four years later, Magistrado has earned a following of almost 2,000 subscribers, and one of her videos has close to 7,000 views.
Magistrado enjoys being on camera and providing women with beauty, lifestyle and fashion tips by means of creating videos that display her knowledge, including do-it-yourself projects and make-up tutorials. She soon discovered that her channel was a way for her to be unique and creative, something she found as a challenge through her studies.
"I was a biology major when I first got here and I felt like I couldn't really express myself in a certain way," Magistrado said. "With these YouTube videos, I was able to be expressive of myself and be creative."
As a young girl, Magistrado found herself turning to the Internet and other resources in order to learn more about fashion and makeup. She stumbled upon the inspiration for her channel as a middle school student and decided she wanted to inspire young women to love fashion and makeup as much as she does.
"When I found these types of videos online, I looked at the girls like big sisters because I'm the only girl in my family and I didn't have someone to teach me how to do make-up or show me what to wear," Magistrado said. "I hope to be a big sister to my viewers, too."
With the annual Coachella Festival around the corner, Magistrado is sending out an early public service announcement to watch out for boho-inspired outfits, especially flared out pants and off-the-shoulder tops. However, no matter the season, Magistrado will continue wearing clothes she loves.
"I was a very shy person before starting my channel and it really helped me to open up and be more outgoing," Magistrado said. "You get to meet so many people from around the world."
As a student, Magistrado struggles to find the time to create videos on a weekly basis. However, as her New Year's resolution, she promised to post at least one video per week. She wants to continue being the older sister for young women to find the fashion and makeup advice they need.