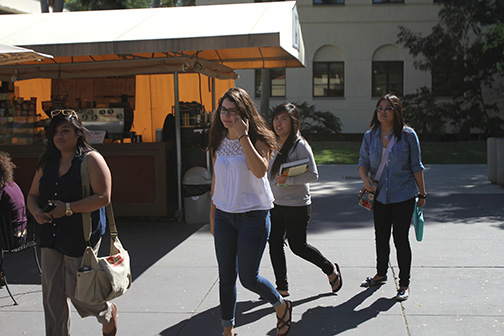 San Diego State has a style unique style compared to all other universities. With the constant sunshine and seemingly perfect climate, it seems like students don't have many options when it comes to attire. However, walking around campus for just one day will prove that wrong. The colorful students of SDSU bring their own touch of style that contributes to the campus' diversity. With that said, there are many styles and accessories SDSU students are a bit too familiar with. Here are just a few of SDSU's top trends:
Sports backpacks
Let's face it, how else is the school supposed to distinguish an athlete without their embroidered backpack? Being a collegiate athlete is an exceptional accomplishment, so receiving a snazzy backpack with an embroidered name, jersey number and sport is well worth showing off. As long as SDSU has athletes, personalized backpacks will never go out of style.
Sorority tote bags
Is one really in a sorority without carrying around a tote bag? These adorable burlap bags can be seen with multiple designs and colors. However, the obvious signature of these bags are the intricate Greek letters. Sorority tote bags have become much more than book bags, and this charming trend is far from fading away.
Tank tops
San Diego is known as America's finest city, so it seems almost natural that SDSU be known for its finest sleeveless shirts. Tank tops are typically a symbol of summer, and are a privilege to be worn in most states, but not at SDSU. Guys and gals can rock tanks all year long here on the mesa. The only time students might not be seen wearing tank tops are when it snows, and snow isn't usually on the agenda for SDSU (unless it's an Aztec Night).
High-waisted shorts
Did someone say totally '80s? With the looks of this trend, it appears that time really does repeat itself. High-waisted shorts have become a trend in female fashion, and they have definitely become a trend on campus. With the breezy San Diego sunshine, shorts are a must to stay cool. Some have differing opinions on the trendiness of high-waisted shorts, but with such a trend on campus, what's not to love?
Sunglasses
San Diego and sunshine go together like Trujillo's and burritos. The only time sunglasses aren't worn are on the infrequent overcast days, and even with clouds, some people are still wearing their shades. Whether they're designer Ray-Bans or discounted shades from the bookstore, sunglasses play a major part in campus style. Yes, their main purpose is eye protection, but who would have thought UV reflectors would be so stylish? Whether it's small frame, large frame or aviators, SDSU works every style of sunglasses.
Headphones
Let's be honest here, can most students really go a day without their worshipped headphones? Whether rocking those stylish Beats by Dre or just basic earbuds, it's almost impossible to go a day without seeing students and faculty jamming out to their favorite tunes before class.
Greek letters
Fraternities and sororities play a large part in this university, and their apparel does as well. From tanks to tee's and sweaters to cardi's, students can be seen sporting Greek letters every day of the year. Not very many people at SDSU can speak Greek, but thanks to fraternities and sororities, we all know the alphabet.
SDSU gear
After the exhausting process of moving into the dorms, freshmen receive a beloved "Aztec for Life" T-shirt. While these shirts may not be worn much after freshman year, they were the first in the collection of every Aztec's SDSU apparel drawer. Whether it's an "I Believe That We Will Win" shirt, San Diego hat or SDSU hoodie, Aztec gear will always be a trend on campus. Students are proud to display the colors and of this university on campus and at home.
Yes, there are many popular trends seen throughout campus. However, fashion is about expressing oneself and individuality in unique ways. Owning a unique style and being confident is always the best trend for an Aztec.