Shopping in San Diego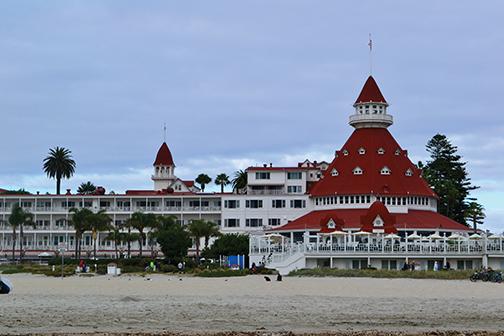 San Diego offers a multitude of unique neighborhoods, all complete with their own distinct style. The Daily Aztec took to the streets of America's Finest City in search of the best neighborhoods to shop and discover your style. 
Coronado
Upon crossing the Silver Strand Bridge into Coronado any savvy shopper can feel the different world they have entered into. The isolated community surrounding the historic Hotel Del Coronado has plenty to offer. Orange Avenue is full of beach wear and designer clothing stores, art galleries and restaurants ranging from sit down meals with white table clothes to cute cafes with a beach view. There are a multitude of souvenir shops offering trinkets from seashells and T-shirts to gems and jewelry. While Coronado is a tourist hot spot, there is something quaint about the small knit community that resides on the island. One of the best things about a Coronado shopping day is the parking. Just past the Del hotel there are two large lots of free parking, which is a true gift.
Pacific Beach
Pacific Beach is a wonderful shopping destination for a variety of reasons, the first being Pangaea Outpost. Pangaea Outpost is home to numerous artists and merchants who supply goods from around the world. There is both women and men's clothing, children's toys, jewelry, crystals and a wide variety of exotic items from around the world. The people are friendly, the space is packed but never hectic, and to top it off, complementary coffee is offered when you walk through the door. Outside of Pangaea Outpost, the streets are lined with restaurants and tattoo parlors, but in between there is a collection of trendy stores. Many designers from San Diego have set up shop along Garnet Avenue, as have many surf-related stores. Scattered along the boardwalk are many street vendors, as well as cafes. Doing a little shopping and getting a little sun is the perfect game plan for a day at Pacific Beach.
Hillcrest
Hillcrest is home to an eclectic variety of shops. There are cute and unique boutiques offering a distinct style. There are mom-and-pop stores and restaurants that provide a one-of-kind experience alongside the common retail chains. University Avenue is full of attitude, from the clothing stores to the street art. Sixth Avenue is home to one of the few remaining genuine record stores as well as a large variety of vintage clothing shops. The community within Hillcrest is great for shopping and people-watching.
Ocean Beach
Ocean Beach shops are masters of beachwear. There are shops full of bathing suits in all sorts of designs and cuts. There are shops with racks on the sidewalks lined with sundresses and cover-ups for women and light linen button-downs for men. The great thing about shopping in Ocean Beach is that there is so much more than clothing to experience. An amazing acai and smoothie store on Bacon Street offers a great lunchtime snack as do the multitude of restaurants that line the streets. Sunset Cliffs, as well as the Ocean Beach pier, provide an absolutely gorgeous end to any day.
Gaslamp
The shops in the Gaslamp Quarter of San Diego are very proud to be in San Diego. Many of the stores sell items stamped with Padres and Chargers logos or images of landmarks from the city. The Gaslamp Quarter is 16 blocks of history and nightlife. The area is also very welcoming of the beach community with a variety of boutique swimwear shops nestled between the brand-name surf stores. Sixth Avenue is a popular street for visitors and locals to enjoy going out and Horton Plaza has all of your mall staples. Whether the night involves a baseball game, dinner, dancing or drinks at a bar, the Gaslamp has just what you need.