Cafe wins with menu specials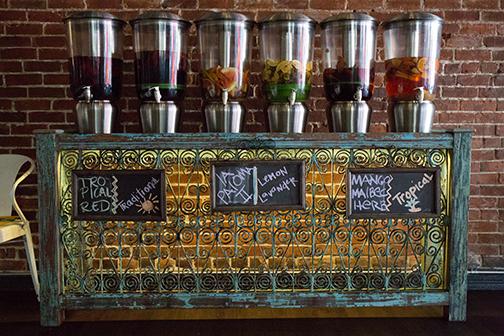 It's rough to be forced to come to terms with the reality that one tiny cocktail costs more than an hour's wage at your retail job.
Before getting too discouraged by pricey adult beverages, take a moment to absorb these two little words that save bank balances on a regular basis: happy hour.
Happy hour is the basic definition of "the best of both worlds." It's the freedom to indulge in the good stuff like flavorful craft beer, artisan wine and knock-your-socks-off cocktails. If graduating from Franzia and Keystone isn't enough of an incentive, just wait to see the happy hour prices at this great restaurant in Gaslamp Quarter.
Cafe 21's daily happy hour from 3 – 6 p.m. is so delectable and so affordable that it can turn anyone into a regular. Seating shouldn't be a problem on weekdays, but expect a crowd on Friday nights and weekends.
Not 21? Don't shy away from this restaurant yet — the 21 tapas on the happy hour menu will satisfy any hunger craving at any age. I highly recommend the 4-cheese fondue for a creamy, cheesy treat. The fondue comes with bread and vegetables for dipping, but don't be surprised by the urge to starting eating it with a spoon — yeah, it's that good.
For something more unique on the menu, try one of the specialty fries like the avocado fries. Another crowd favorite is the BBQ Chicken Potato Pancake — though my group was too stuffed to try this menu item ourselves, we heard nothing but good things.
Finish off your tapas smorgasbord with the flourless chocolate cake. Sharing is recommended on this one — it's rich and filling but oh-so-delicious. All tapas are priced at $6; so a few tapas shared between a few people is a total bargain, considering the charming ambiance and high quality of the food.
Cafe 21 specializes in organic and natural foods. The extra few minutes of waiting is well worth it for a quality, made-from-scratch meal. The restaurant even offers organic vodka and jalapeno tequila that staffers infuse themselves. Many of the beers on tap are local craft beers, making Cafe 21 a true San Diego experience.
The happy hour beverage options are just as impressive as their food selection. At Cafe 21, mimosas aren't just for mornings — specialty mimosas are a steal during happy hour at $3.50 as is the craft beer selection for $3. Another customer favorite is the wide selection of Sangria the restaurant offers. If you're out with friends, split a flight. It's plenty to drink and it allows for a little taste of everything. Additionally, premium cocktails and Cafe 21's signature, Instagram-worthy bloody marys are also on the menu.
Menu aside, Cafe 21 is the ideal place to get a true taste of trendy downtown San Diego, at a reasonable price. The setting is classy and charming, and it's the perfect place to get a little dressed up, and have fun night out with friends.