Polite Provisions shakes up a classy scene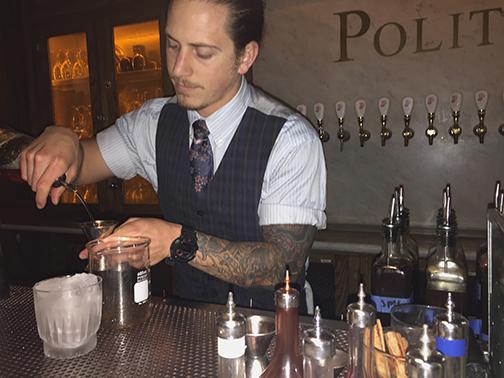 Stepping inside Polite Provisions is like getting a glimpse into an apothecary during the prohibition era. The sultry atmosphere and polished character of the establishment run parallel with its hand-crafted specialty cocktails.
It's a Sunday night and the bar at 4696 30th st. is full and humming with conversation. The bartenders are dressed to the nines in striped button-up shirts, tweed vests and dark floral ties. Many in the San Diego area have heard of its candle-lit allure, but few know that it is only just more than a four-mile ride from San Diego State.
The walls are lined with vintage looking bottles of whiskey, gin and scotch. The service is entirely attentive, but smooth. Small bottles of what seemingly contain provisions are assorted on small double racks and placed around the room. While conversing with my friend, I look up to see that an atrium permits star gazing on clear nights; a perfect atmosphere for sipping a New York Sour.
The winning drink around here is a Kentucky Buck, which consists of bourbon, Fresh Lemon, strawberry and house-made ginger beer, with an Old Fashioned coming in a close second.
They don't use high fructose corn syrup in any of their products, which is apparently supposed to be a positive thing, and the unsurprisingly beautiful-looking staff doesn't hurt either.
While, their normal prices seem to be on the heavy side for the average college student, ranging from $8 to $10 per drink, it has a perfectly reasonable happy hour menu, especially for the quality of drinks. Five happy hour cocktails, which come from a cocktail recipe book dating before prohibition, are priced at $5 apiece. Featured beers and wines are also available on both the happy hour and standard menus.
For those of you who like to get dressed up to have a drink and also enjoy using the word "wholesome" a lot, this is probably a good spot for you. If you get hungry while drinking or for those of you who are younger than 21, the bar is connected to a restaurant called Soda & Swine, which sells an assortment of meat dishes and old fashioned soda floats. They have a vegetarian option or two, but that's clearly not where they get their name.
Polite Provisions is open 3 p.m. to 2 a.m. on weekdays and 11:30 to 2 a.m. Friday through Sunday.