Oggi's pizza bar tops off nutritional value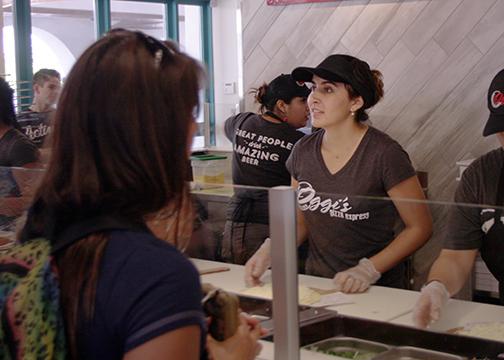 What is a break between classes without pizza and beer?
If you enjoy quality food, Oggi's Pizza Express is for you. Located in the San Diego State Conrad Prebys Aztec Student Union, Oggi's is geared toward the college crowd but is a great place for community members as well.
Oggi's is home to healthy, quality meals from freshly baked desserts to signature pizzas and salads. As if that isn't enough, you can customize your own pizza and salad. Paired with a wide variety of soft drinks, teas, wines and beers, there is something for everyone.
Why go somewhere else for pizza when Oggi's has everything you need and more. Oggi's has healthy ingredients and can caterer to different dietary restrictions. At Oggi's, you can pile your pizza high with quality toppings instead of getting stuck paying per topping at larger chains.
"I come here too much, but I enjoy it," recreation and tourism management senior Jenna Withers said. "Your pizza is made in front of you — it's fresh."
It is similar to a pizza connoisseur's Build-A-Bear. Load up your pizza just the way you like or choose any of the following:
1. Oggis's thin-crust pizza made with handmade dough — a gluten free option is also available.
2. Organic red sauce, BBQ sauce, pesto, garlic olive oil or balsamic glaze
3. All-natural meats, free of antibiotics, nitrates, and hormones, including pepperoni, Italian sausage, grilled chicken, BBQ chicken, ham and bacon
4. Multiple types of cheeses, such as light and vegan mozzarella, feta, gorgonzola and ricotta
5. An endless array of veggies: artichoke hearts, basil, bell peppers, olives, cilantro, garlic ( fresh/roasted), jalapenos, mushrooms, oregano, pineapples, red onions, roma tomatoes, roasted red peppers and zucchini
Oggi's is also well known for its beers. After 15 years in the business and 45 international and regional medals, Oggi's is kind of a big deal. SDSU's Oggi's has 10 house beers and 20 changing beers on tap from local Southern Californian breweries. Wine, mimosas, moscato and hard ciders are also available.
"We only work with Southern California breweries, specifically San Diego," English senior Kaelee Nelson said. "Everything you see here is local; the farthest we go is North County and our brewery in San Clemente. We are a craft beer bar, we try to encourage people to try different beers, get involved in the community, know the local brewer."
With 14 other locations in Southern California, Oggi's is focused on supporting microbreweries in both San Diego and Southern California.
Serving beer on a college campus might see a little risky given its population of underage students, but Oggi's keeps it professional by meticulously requiring patrons aged 21 and older to wear wrist bands at all times.
With its sports-bar environment, basketball games and other events, leave Oggi's packed with students, alumni and faculty.
Oggi's is a great restaurant for an affordable, tasty and nutritious meal in a clean and lively environment.
With a Touch iTunes music player, virtual poker table, old school arcade game machine and some TVs, patrons are never bored at Oggi's. A knowledgeable, friendly staff and refreshing atmosphere is what makes Oggi's the perfect dining experience, to have some fun or to just relax and enjoy an on-campus beer or two.