Spanish Professor is 'Aztec for Life'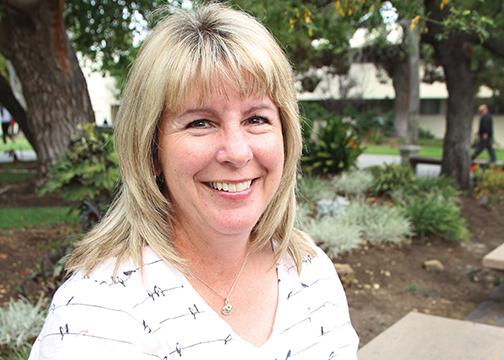 As students, it's not easy waking up every morning and going to class, especially when you've been studying all-night or trying to catch up on homework due last week. However, having a professor genuinely interested in your success as a student makes those early mornings a little easier.
Nancy Coto has been lecturing at San Diego State for 28 years in the Spanish Department and is one of those professors who treats every student with the respect they deserve.
Since she was 12-years old, Coto showed a fascination for language and listening to other people speak in different languages. Coto is a San Diego native, so when it was time she became an Aztec and double majored in French and Spanish. Learning different languages is an interest that has long been a passion of hers.
Just like the students she teaches, Coto studied abroad when she attended SDSU. For one year, she traveled to Spain and spent the majority of her time in Madrid.
Traveling to Spain ignited Coto's fiery love for the Spanish language. Almost 30 years later, she continues to teach the same language she learned decades ago.
"I love teaching and I've always loved it since I was little," Coto said. "It's fun to teach people and it's fun to watch them learn and watch them as the light bulb goes on for them."
Coto hopes to continue to spread the same love for the Spanish language and culture she adores. More importantly, she wants to teach students to be more accepting of different customs that exist outside of their own traditions.
"I want my students to have a passion for languages and learning another culture," Coto said. "I want them to be more open-minded about people and different places."
Outside of the classroom, Coto enjoys spending her time on the golf course, especially in the early morning where she is able to watch the sun rise. However, she dedicates most of her free time cheering on her own students from the sidelines.
Coto is no doubt a log-time supporter of the Aztec community. She is a big fan of Aztec football and basketball. Those who have taken her class understand her small obsession.
"I have an entire closet dedicated to Aztec clothes," Coto said. "I love athletes and I love helping them with Spanish."
This semester, Coto decided to put herself in her students' shoes and go back to school. Even as a professor, there is no end to what someone can learn. Before Spanish, Coto's first true love was the piano.
"I was a concert pianist before I became a professor," Coto said. "I trained to be a pianist, but I never got a degree in it."
After cornering the piano instructor at SDSU and begging for an audition, Coto was able to perform in hopes to become a part of the music department and fulfill her dream as a professional pianist. She considers herself an extremely lucky person and appreciative someone believed in her, the same support she hopes to provide her students.
"It was inspiring for somebody to take a chance on someone my own age," Coto said. "I want to inspire my students, as well and show them I am interested and I do care, because it's really important."
One of the ways Coto shows her appreciation for her students is by providing an educational experience that goes beyond a routine lecture. She plans class activities that practice the Spanish language in alternative ways, such as transforming the classroom into a courtroom.
"We decided to do a discrimination trial during class where two students acted as Denny's employees and were discriminated against because they spoke Spanish on the job when they weren't supposed to," Coto said.
Each student was asked to take on a different role. In attendance were a judge, bailiff, prosecutor and jury. Coto even put on her acting cap and acted a surprise witness.
"I've had lots of fun experiences with students, but the most fun is when somebody comes back later and decided to major in Spanish after they have taken my class," Coto said. "It's the biggest compliment."
Coto is currently living in the same house her parents once lived in when she was younger. After a little remodeling, it is the place she continues to call home, along with her two sons.