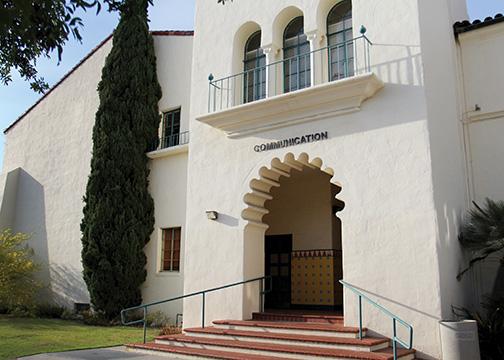 Michael Rapp, often referred to as Master Rapp, Michael or just Rapp, is the large lecture professor of Communications 103 and one of the most recognizable faculty members on campus. Overseeing thousands upon thousands of students every school year in one of the most popular classes on campus, his face is sure to be recognized by almost any student.
This year marks Rapp's second year teaching Comm 103, with thirteen years of teaching experience at San Diego State already. Considering the fact that he is an SDSU alumnus with a Bachelor of Arts and Master of Arts in communications, there's no doubt that Rapp is well-acquainted with the school.
"I started out teaching in grad school and just kind of fell into it after I completed my master's," Rapp said.
Anyone who has been in one of Rapp's classes is sure to know of his enthusiasm and eagerness to teach. Despite the huge class sizes of Comm 103, he tries to make sessions more personal by including relevant clicker questions and insisting that no one call him "Professor" in hopes that he won't seem too austere.
"I feel that there's a distinct difference between lecturing and teaching," Rapp said. "I have to talk to students for them to learn."
With the advent of larger class sizes and hybrid courses, this kind of teaching will inevitably have to become more common to accommodate for a lack of student-teacher interactions. The new Storm Hall building demonstrates this developing emphasis on more substantial class sizes, with multiple large lecture halls.
"It's more about (the students), not me, and I love to see that 'I get it' moment," Rapp said.
It's not uncommon to see students coming to Rapp's office hours for help on homework or just general life advice.
"Master Rapp actually managed to make a subject that I'm usually bad at and don't care about fun and interesting," aerospace engineering freshman Israel Lopez said.
Keeping things interesting and staying in the flow of speaking is Rapp's main objective for classes. Combine this with his many years of experience and a commitment to students, it's no wonder Master Rapp is so well-received on campus.
"The point of teaching isn't assigning work and writing exams, it's about talking to students and seeing them succeed," Rapp said.