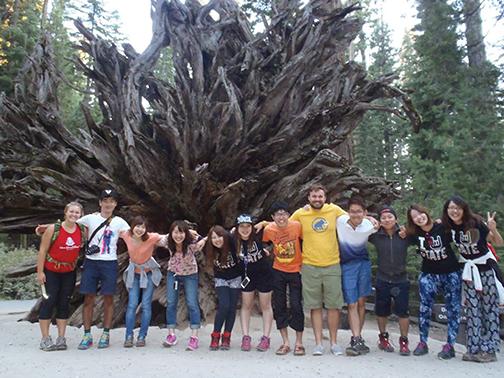 Aztec Adventures, a program of San Diego State's Aztec Recreation division of Associated Students, organizes outdoor trips with lessons on leadership and environmental responsibility. The program offers activities, such as camping, hiking, backpacking, rock climbing, canoeing and whitewater rafting.
The program members also run team challenges for those interested in promoting teamwork in their organizations, and supervise the rock-climbing wall in the Aztec Recreation Center.
The aim of the outdoor trips is, in part, to provide people with peace of mind.
"For many people it can be spiritual, it can be rejuvenating or therapeutic," Outdoor Programs Coordinator Jim Lustig said. "It can be a time to be with friends or family and away from, especially today, all the technological distractions."
As head of Aztec Adventures, Lustig also ensures that the program's practices are environmentally sustainable.
"We stole an acronym, ASAP, which we consider to mean 'as sustainable as possible,'" Lustig said. "While we can't be perfectly sustainable, we are striving to be as sustainable as possible."
The program members incorporate leave-no-trace principles into their exercise and nutritional sciences courses as well as their trips.
"We are always trying to communicate the importance of the environment to trip members," Outings Lead Supervisor and recreation and tourism management sophomore Lauren Vollrath said.
Some leave-no-trace principles include camping on durable surfaces, disposing of garbage properly, keeping campfires small and respecting wildlife.
The program is sustainable in a hands-on fashion, too, as a participant in the SDSU community garden project. The community garden is a small plot of land next to the SDSU Children's Center.
"We've grown celery, tomatoes, cucumbers and squash, and we take that food on our trips," Vollrath said.
During the trips, the outdoor leaders will collect the food waste. When they get back, they grind up the waste and feed it to worms to get compost for the community garden.
The program members do their best to use as few vehicles as possible to reduce their gasoline usage, Lustig said. They also try to eat at family-owned, local restaurants when on the road. When they plan the trips, they buy food from Windmill Farms, a locally-owned supermarket focused on selling healthier foods.
"We strive to eat organic food," Lustig said. "We also eat low on the food chain — our menus are not meat centered."
Vollrath said a vegetarian diet is more sustainable than an carnivorous diet.
"All of our meals are vegetarian," Vollrath said. "Being a vegetarian is a lot more sustainable than not being a vegetarian. It takes a lot of energy and resources to grow the animals to get the meat that we eat."
Though they serve vegetarian meals, the program members are not strictly vegetarian.
"A lot of us eat meat, but we have a philosophy in the program. We say 'hey, for a weekend's time we're trying to introduce you to a possibility,'" Lustig said. "If the food is good and nutritious, you might say, 'maybe I don't need red meat every meal.'"
The program members also buy high-quality equipment that is built to last, in order to reduce waste from faulty gear. On trips, they make sure to recycle and minimize the packaging and repackaging of foods. Mostly though, the program shows sustainability through what the trip members eat.
"The big way to role model sustainability truly is through food," Lustig said. "Through where you get food, through diet and through how it is disposed of."
Lustig hopes that if the students have a fun time with Aztec Adventures, they will want to help preserve the natural environment in the future. He hopes that seeing naturally beautiful places like Yosemite or Joshua Tree National Park will convince people of the importance of nature.
"Author Wallace Stegner said the national parks was the best idea America ever had," Lustig said. "Yosemite is one of the crown jewels. Millions of people come from all over the world to see Yosemite, and we didn't do anything. The only thing we're doing, hopefully, is leaving it alone."