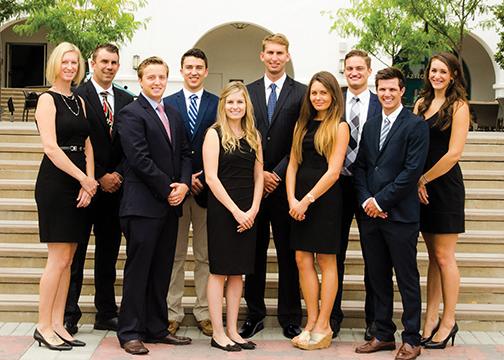 San Diego State's Corky McMillin Center for Real Estate was established in 2009 to train real estate students and help them make connections in the industry.
Corky McMillin, who endowed the center, was a prominent Southern California land developer. In 1960, he built a house with a loan backed on the equity of his own home, according to the Corky McMillin Companies website. From there, he kept on building houses, founding new companies on realty and mortgages to buy houses. Today, McMillin Land Development has built more than 30,000 homes from San Diego to San Antonio.
McMillin donated the money for the center before he died in 2005. From the very beginning, he wanted the center to focus on providing practical experience for real estate students. One way the center realizes that goal is by training students in real estate tools.
"This last weekend we had our ARGUS software training," Center Coordinator Melissa Abeyta said. "That's a training that's not covered in the classroom, but real estate graduates are expected to know. It's a really expensive software, so the center takes on that expense."
Those who work at the center either find an SDSU faculty member or a third party to teach skills to SDSU real estate students.
Through the Day One program, students get to see how land development and real estate works in person, Abeyta said.
The center also works with members of SDSU's Real Estate Society and supports the society financially. Many society members have gone on trips with the Day One program.
"The Day One program is a class and an interview, normally two hours long on a Saturday," said Real Estate Society President and business senior Jack Losey. "It's an opportunity to create a relationship with those in the industry."
The program is important because the real estate business is so different from what happens in the classroom, Losey said.
The center's board members, including McMillin's son, Mark, are often SDSU alumni who became executives in the real estate industry. They fund the center and work with students to get them work experience.
"They help with mentorships, jobs and internships to give to our students," Abeyta said.
Maintaining relationships is very important in any business, including real estate, so those at the center try to emphasize that. The board members see the center as an opportunity to meet students.
"They want to talk to the students," Abeyta said. "They would rather have an event where they have a breakfast with students, than just a meeting of the minds with just industry people. The center is completely focused on being student-centric."