Aztec contributes to life on campus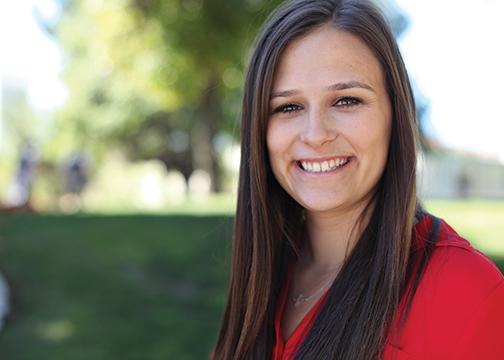 Nearly four years ago, a girl from Danville, California toured various college campuses in hopes of feeling a special connection with a school. Little did she know she would fall in love with San Diego State the moment she arrived.
Four years later, this girl has become a notable leader at SDSU by serving as the Associated Students Vice President of External Relations and a loyal sister in the Alpha Phi sorority.
Integrated marketing communications senior Jacqueline Karczewski may be graduating this year, but her legacy will continue to live on at SDSU for years to come.
Karczewski grew up in a small town in northern California where everyone knew everyone, and Karczewski was able to create numerous friendships and become involved with many activities in her high school.
"Going through all of the leadership activities in high school really prepared me for college and taught me that it's important to put yourself out there," Karczewski said.
However, Karczewski has come a long way from being her high school class president.
As the A.S. vice president of external relations, Karczewski oversees everything related to marketing, public relations and communications in A.S.
This year alone, organizations such as Rock the Vote have registered more than 700 SDSU students to vote thanks in part to the efforts of Karczewski.
The topic of sexual assault has also gotten much attention in the past year. Karczewski has worked to get more than 700 students to pledge to the "It's On Us!" campaign to end sexual assault, and she hopes the efforts to end assault will continue after her graduation.
Along with her prominent role in A.S., Karczewski sits as the voting member for SDSU in the California State Student Association. This association meets once a month at different CSU campuses to discuss campuswide issues.
Whether it was the time she spent living in the Alpha Phi house sharing clothes from 40 different closets or being consumed by school spirit when the Aztecs won a basketball game at the final buzzer, Karczewski has had countless unforgettable experiences during her time at SDSU.
Karczewski is no stranger to campus activities, but some of her fondest memories come from the simple times in her early years on campus.
"Living in the Tenochca dorms was definitely really fun, and meeting so many people and becoming close with them was probably one of my favorite memories," Karczewski said.
She has been involved with A.S. since her freshman year, and believes that she has been able to make life-long friends because of the organization.
"Being in Associated Students has allowed me to grow as a person and learn about the different leadership styles and skills you need to manage your time effectively," Karczewski said.
Caroline Mathews, an employee of A.S., has grown to become a close adviser to Karczewski through her involvement with various boards. She said it has been a joy to work with Karczewski and watch her grow as an individual.
"Jacqueline is a woman with a good heart, very intelligent and will be incredibly successful in all she does," Mathews said.
When it comes to her career goals, Karczewski hopes to have an exciting and enjoyable job through which she can help others.
She loves the marketing and sales industries and will be working for Frito-Lay in the sales management program after graduation.
Next year, it's possible that others might see her driving the Frito-Lay truck delivering bags of chips or even managing the sales in the company's mini-districts.
In Karczewski's tenure she has learned to not take life too seriously and that it's important to work hard while also having a good time.
She wants to advise younger students to put themselves out there and not be afraid, because that's how to meet new friends and ignite change.
"It's important for students to not let others tell them what to do because these four years of college are your four years, so get involved with whatever you truly want to be involved with," she said.
As Karczewski graduates and embarks on new adventures in life, she will still remember the school she fell in love with while on a campus tour. SDSU will always be her home.