Alumnus helps elderly for Guardian Angels program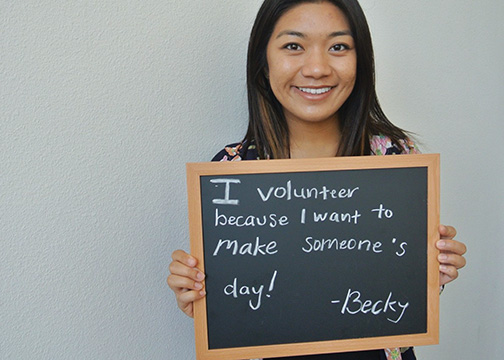 Mark Maxwell is a San Diego State alumnus who has dedicated his life to changing the lives of others forever. After graduating with a degree in communications in 2010, he developed Mentoring to Succeed, a program that helps students with learning disabilities transition from high school to college by providing them with the individual accommodations they need. In 2014, Maxwell decided to get involved with another life-changing cause. This is when his journey with the Glenner Memory Care Centers and the Guardian Angels program began.
The Glenner Memory Care Centers work in coordination with the Guardian Angels to bring volunteers together with the elderly residents of assisted living homes.  GA was organized by San Diego County Supervisors Dianne Jacobs and Pam Slater-Price with the intent of reducing the isolation of elderly residents in long-term care facilities. Volunteers spend time socializing with isolated seniors who have been diagnosed with Alzheimer's disease and dementia.
As Guardian Angels program director, Maxwell works with volunteers as well as communities in San Diego.
"I wanted to get involved in this program because I lost my grandmother this year and I was very close with her," Maxwell said. "By working for the Glenner Memory Care Centers, I started learning more about Alzheimer's and dementia and how it is so prevalent not only in San Diego but throughout the United States."
From his many interactions with residents, Maxwell has learned a lot about himself, the diseases and most importantly San Diego communities. Maxwell said his favorite part of his job is the positive feedback he has received from coordinating events that have brought more than 10 different communities together.
Maxwell is passionate about his personal community service work but is also focused on recruiting and inspiring the people of San Diego to get out there and give back.
"I feel that it is important for oneself to give back to the community and to show love for these isolated residents who don't get very much love every day," Maxwell said. "I believe that one can learn a lot by sitting down next to these residents and spending one's days with them."
Maxwell hopes to instill this belief in his volunteers. There are currently more than 150 Guardian Angels service sites across San Diego. Usual visits with seniors include breakfast or lunch, games and activities and supervised walks. Most volunteers tell jokes or stories to keep the residents lively and involved in a one-on-one setting.
Current volunteer Victoria Mendieta says she never imagined the joy she would find in simply keeping others company and that she was drawn to Guardian Angels because of its unique interaction plan.
"I chose this program because I felt that it would give me a different kind of experience," Mendieta said. "There aren't many programs that go out and help the elderly. I was excited to know that there was an opportunity to engage in the elderly community."
Guardian Angels has grown in size nearly tenfold in the past year. With the continued growth in volunteer numbers, the program hopes to expand to cities outside of San Diego within the next five years.