Introducing you to SDSU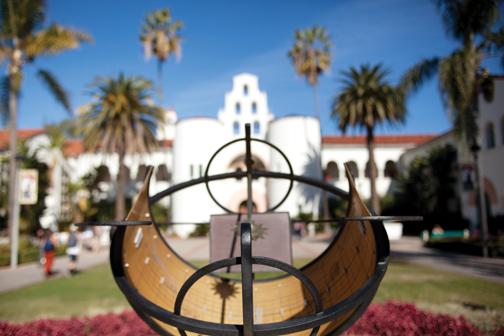 Congratulations, you're here! The San Diego State campus is your playground for mental exploration and social experimentation. But before you start calling yourself a true Aztec, there are a few things you need to know about your new home.
Many of you will be part of the 2018 graduating class, but, believe it or not, SDSU welcomed its first group of students back in 1897. This makes SDSU the oldest university in San Diego. It's also the largest university in the city and the third largest in the state.
Under our roof, you'll find more than 30,000 students. About 25,000 of these students are undergraduates like yourself who can choose from nearly 160 undergraduate majors and minors. The remaining 5,000 are graduate students who cover close to 100 degrees and credentials. SDSU also opens its doors to community members looking to further their education. They can choose from classes, seminars and certificate programs in the College of Extended Studies.
Southern California is one of the most desirable places to live in the country. SDSU frequently ranks among the top 10 schools in the nation for number of applications. So if you're here, it's because you earned it!
Out of the 25,000 undergraduate students, there is one thing you have in common with each and every one of them: brain power. On average, last year's incoming SDSU freshman had a high school GPA of 3.82, a SAT score of 1159, and an ACT score of 25. This stirs up a competitive environment for all students. But students are not only smart here, they also create an international mix. You are walking among students from more than 100 different countries. And you have the chance to experience those countries for yourself, thanks to SDSU's study abroad program, which ranks third in the California and within the nation's top 25.
Even if you don't want to take studying abroad for a spin, there is plenty for you to do right here on campus. Hundreds of student organizations will be fighting for your membership. There are over 50 fraternities and sororities available to you, as well as countless intramural and club sports teams. The distinguished Army, Navy or Air Force ROTC programs provide even more opportunities for students looking to serve their country .
No matter which path you choose to follow, SDSU will hold your hand the entire journey. Everywhere you turn there are Aztecs by your side cheering you on. In fact, one in seven adults in San Diego with a college degree are former Aztecs.
Now it's time for you to go put these facts to use. But remember, if there is only one thing to remember on this campus, it better be this: "I believe that we will win!