Ale house makes homemade beer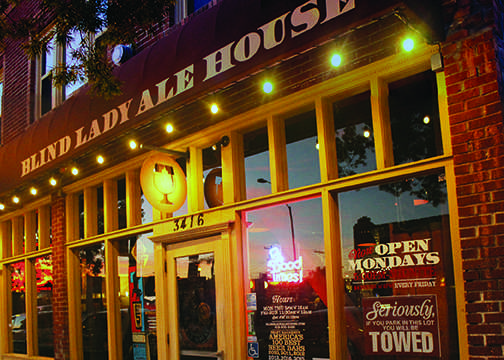 San Diego is obsessed with craft beer, and for a good reason. Craft breweries are some of the city's fastest growing businesses and many produce quality, award-winning beers.
Blind Lady Ale House, located on Adams Avenue in Normal Heights, understands this culture and embraces it with style.
"I remember really enjoying the atmosphere," media studies senior Mikaela Mikova said. "They have great pizza, a wide variety of beers on tap and their seating arrangement is ideal for large groups."
The red-brick restaurant has a vintage vibe that charms and appeals to an adult crowd. The vintage wooden skateboards hung on the walls and the collective display of outdated beer cans develop an element of nostalgia.
Blind Lady has an ever-changing tap list full of surprises, rotating its selections frequently. A Ballast Point Grapefruit Sculpin can be on the menu at 6 p.m., but then be replaced by a Sierra Nevada Pale Ale by the end of the night.
The real excitement, however, comes with the special brewing happening inside Blind Lady Ale House's very own Automatic Brewing Co., located at the back of its restaurant. Customers can determine which beers are made through Automatic by the distinguished red, mechanical "A" placed besides its beer names.
Automatic Brewing Co. produces a variety of homemade beers. The company's Ask Beethoven beer is a smooth blonde ale with vanilla and stone fruit — a great choice to share a pitcher with a group of friends.
Blind Lady doesn't forget the coffee-lovers with its signature Automatic Coffee Brown beer, brewed with Dark Horse coffee beans.
The wide assortment of beers offered weekly leaves customers with the option to try something new.
The food menu isn't half bad, either. The vegan-friendly restaurant offers wood-fired pizzas with an abundance of toppings. Some vegan favorites include the margherita pizza, complete with tomato sauce, mozzarella, basil and olive oil, or the vegan pesto pizza that throws on some cremini mushrooms, olives and pickled onions.
Of course, pizza isn't usually associated with breakfast, but Blind Lady's egg-and-bacon pizza is both unconventional and delicious.
The produce used is also certified-organic, locally grown or even bought at the local Adams Avenue Farmer's Market, according to Blind Lady's website. The alehouse's commitment to quality is noticeable in every bite.
Blind Lady does operate with a line-ordering system, which can be seen as inconvenient by the average customer. A server brings the food to the table, but prepare to grab water and beer at the bar.
Yet, the prices are fairly reasonable considering the quality of beers and food prepared.
Blind Lady has an easygoing but vibrant atmosphere, making it an ideal place to have a relaxing night with a group of friends.
For a memorable experience in this tavern space, go to its themed VHS night on Sundays. Every Sunday starting at 6:30 p.m., the alehouse features different videos on the nostalgic format.
Sunday, Sept. 28 was pop night, which included the videos "Spice World" and New Kids on the Block's "Hangin' Tough." Talk about a blast from the past.