SDSU band member stands up for music education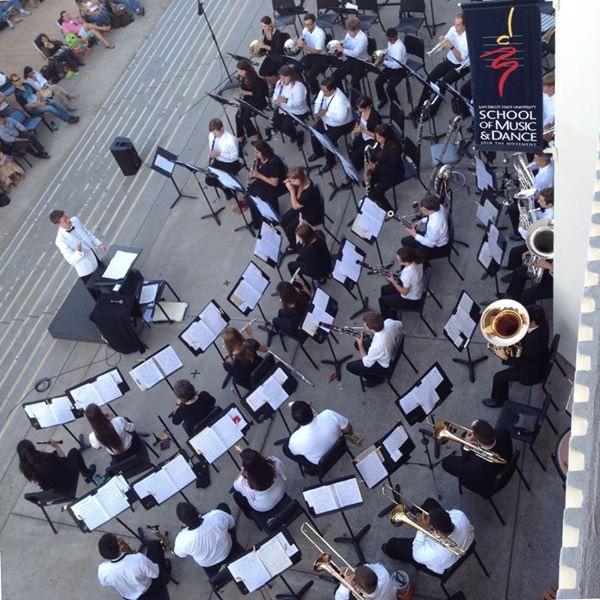 When her music program in middle school was in danger of having its funding cut, music education sophomore Leah Musker decided to take a stand. She spoke at her school's board meeting to prove the importance of the music program and, ultimately, save it.
"When I spoke at the meeting and said, 'Look we really love this. This is something we're going to carry on with,' I think in that moment I realized that I want to do this. I want to become a music teacher," Musker said.
Growing up in a musical family, Musker was always naturally drawn to music. So when she first picked up the flute, she never put it back down. Now, she plays the flute in San Diego State's symphonic band and concert band.
Musker hopes to become a music teacher for either an elementary or junior high school. As a music teacher, she plans to advocate for improved music education in grade schools.
"Everybody always hears music programs are getting cut, but people don't care or funding goes to other things, so we can't fund music programs," Musker said. "(I want to) find out and advocate a better way to incorporate music into the other subjects."
She hopes to give her future students the same experience and support she received from her teachers while she was in grade school.
"I really want to be that teacher who is a role model, guide and kind of friend to students," she said.
Musker's involvement in music has made her life better overall.
She believes music has given her opportunities she would not have had otherwise. Being part of her high school's competitive marching band, Musker gained a strong work ethic, leadership skills and teamwork experience.
Music has had such a major impact on her life that Musker couldn't see her life without it.
"If I'm feeling stressed, I play and it helps relieve that," she said. "I think I would have a very different life without it."
Although she applied to SDSU as undeclared, the overall positive environment of SDSU's music program proved to Musker that she made a great decision to join.
"All of the faculty and staff members are so passionate about what they do but also passionate about teaching us and giving us the tools we need to succeed," Musker said. "It's kind of like a happy accident because I didn't totally plan on being in the music program here. It's been a really good experience."
Musker's family and friends have always been a huge supporter of her music and believe she will have a huge impact on her future students' lives.
"She really has a passion that I think will really go over to her students, and she'll excel and be a promoter of music in many young people's lives," said Shannon Wolfe, one of Musker's close friends.
Although Musker also has a passion for psychology and math, involvement in SDSU's music program was the perfect path for her.
Not only does she view music as a career path but also as an enjoyable outlet.
"It's fun to be able to play and do what you want with a phrase and make your own character out of a song," Musker said.