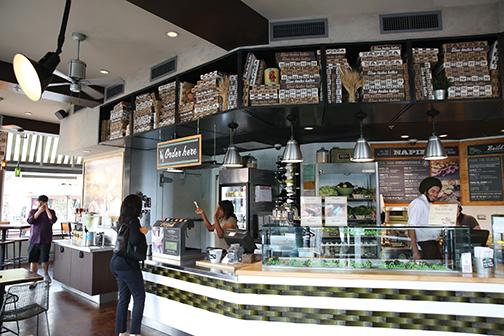 San Diego has more to offer than beautiful beaches and weather. It is an amazing climate for farmers and the perfect supplier for chefs. The following restaurants provide only locally-sourced foods held to the highest standards.
Harney Sushi
Harney Sushi, located in Old Town, has provided San Diego with sustainable sushi options since 2001. While many places serve rolls that include fish with depleting populations, Harney Sushi uses fish that are raised and caught in San Diego in a healthy, regulated practice.
I could talk about the incredibly comfy chairs in this place for days, and they are only the beginning of the amazing experience that is eating at Harney Sushi. There is a bar along one side of the room allowing customers to watch their sushi being made. There is also a large cozy booth, which is perfect for a night out with a group of friends. There was something so intriguing and different about Harney Sushi that I chose to be daring and try two new rolls. The first was the Flaming Lip Roll, $10.50, a tempura-fried California roll with cream cheese, spicy mayo and jalapeño sriracha. The ingredients were fresh and well-handled. It was incredibly spicy, but not overbearing to the point that spice was the only taste. The Miso Harney roll, $13.25, was filled with locally-caught black cod, cream cheese, avocado, fried nagi sauce and sesame seeds.
The rolls are a little more expensive than a regular sushi joint, but the portions are big, the food is delicious and the positive impact Harney Sushi has on the ecosystem and future of sea life is well-worth the price.
 Eureka!
Eureka! in University City provides delicious burgers with ingredients that are locally-sourced, grass-fed and antibiotic-free. To be honest, a shopping center has never struck me as a location for a quality sit-down meal, but Eureka! has begun to change that.
The walls are lined with beautiful wood paneling and there is an outdoor seating area with large couches and a fire pit. Both the décor and the food is a nice change from the common food court. The burgers are all-natural beef and are 100 percent vegetarian-fed, hormone-free and antibiotic-free. The Original Eureka burger, $9.50, is stacked high with lettuce, pickles, onions, tomatoes and special sauce, and is paired with hand-cut fries. The signature fries, which could be a meal on their own, are thick, crispy and lightly salted. A lighter choice, the Watermelon Salad, $11.50, is a San Diego summer in a bowl. The salad is full of locally-grown ingredients including arugula, kale, lemon vinaigrette, homemade quinoa, watermelon, feta and toasted walnuts and topped with a balsamic glaze. Long gone is the idea of boring and tasteless salad.
The next time your day of shopping has come to an end and you have a craving for a delectable home grown meal, turn to Eureka!
Skybound Coffee and Dessert Lounge
Skybound Coffee and Dessert Lounge is located in the Gaslamp quarter, serves great food and drinks with a message. Skybound stands for quality, service, organics, community and passion. Most ingredients are organic, including locally-grown coffee beans. All milks and teas organic as well; even the water served is filtered and enhanced with minerals. The desserts are beautiful and the glass orbs filled with flowers hanging from the ceiling add a delicate touch to the space.
Skybound sells a variety of pastries, smoothies, teas, coffees and cakes. Everything in the display case looks delectable, as do the plates coming out of the kitchen.
The Organic Drip Coffee, $2, had an amazing taste and aroma. The Acai Bowl, $7.50, was perfectly portioned and topped with fresh, locally-grown strawberries and bananas. The Chocolate Lava Cake, $8, was rich.
Skybound Coffee and Dessert Lounge is dedicated to both the food they produce and to the community. They pride themselves on serving good food to a good community and using locally-sourced organic ingredients.
Napizza
Among the crowd of delicious Italian restaurants and pizzerias in Little Italy, Napizza stands out. Napizza has gained an immense amount of attention for being green-certified and committed to utilizing locally-sourced, organic ingredients with no preservatives or chemicals. Produce is picked daily from local farmers. Other ingredients are purchased at the Little Italy Mercato farmers market.
The restaurant is positioned on the corner of India Street with ample outdoor seating. The décor inside is artistic and casual. Lamps made from repurposed wine bottles hang from the ceiling. All signs are hand written daily and the glass display case containing the fresh pizza is immaculately neat.
A slice of the margherita pizza, $3, is deliciously topped with Napizza's signature tomato sauce, fresh mozzarella, olive oil and the freshest basil I have ever had. All pizzas come thick, square slice, and either a half tray or a whole tray. The Caprese Panini, $7.25, is delectable. Oven baked with fresh mozzarella, tomatoes and basil, it would be an insult to call it a sandwich.
The exquisite ingredients from local farmers combined with the prime location and rustic atmosphere make Napizza a definite win.