Tasty Tuesday: Baby, baby, Babycakes oooh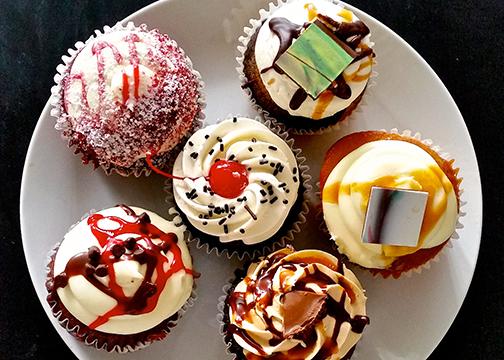 Let me start out by saying, I have never met anyone who doesn't like cupcakes. Cupcakes are usually a celebratory dessert eaten at birthdays, weddings and even graduations. The point is, there is never a wrong time to eat a cupcake, and at Babycakes in Hillcrest, they have all the cupcakes you could ever desire.
I visited Babycakes on a Sunday afternoon while celebrating my roommate's birthday. To say the décor of Babycakes is adorable is a bit of an understatement. The restaurant is built out of an old home painted baby blue, and features a full patio and bar. Like any cupcake or dessert shop, Babycakes has a large display case where hungry customers can pick out a cupcake that suits their fancy.
I thought Babycakes was a dessert-only establishment, but in fact it's much more. Babycakes offers a complete lunch menu, as well as a "munch" menu featuring smaller, appetizer portions. For customers of legal drinking age, Babycakes also has a complete list of cocktails to satisfy your sweet tooth. If you're planning to stop by Friday through Sunday before 3 p.m., Babycakes offers a complete brunch menu. The establishment was extremely busy, so I recommend getting there an hour earlier than you planned to increase your chances of getting a table quickly.
Unfortunately, I did not get the chance to try any of the food Babycakes had to offer because my roommates and I were there for one thing only, cupcakes. Not counting seasonal cupcakes, Babycakes has a total of 25 flavors, which is every dessert lover's dream. The cupcakes are a bit pricey, as one cupcake costs $3.75, or $39 for a dozen.
The cupcakes are so visually appealing, we spent a couple minutes just admiring their beauty. We then realized how much we wanted to eat them, so we devised what was, in my opinion, a genius plan.
We cut each cupcake into five pieces, which is actually much harder than you would think. After cutting each cupcake, we sat there trying to decide which cupcake to try first. We had a total of six flavors: red velvet, chocolate peanut butter, black forest, tres leche, marble and chocolate tuxedo.
We came to the decision to alternate between those with chocolate consistency and those of different flavors. We started with the chocolate peanut butter, which honestly tastes exactly like a peanut butter cup, but better and in cupcake form. Next we had the red velvet, which had the absolute best cream cheese frosting I have ever tasted.
After that we devoured the black forest, which had a surprise cherry filling in the bottom, but I was more excited about the Maraschino cherry on top because none of my roommates are fond of cherries and I got to eat it. Later, we tasted the tres leches, which just melts in your mouth. Afterward we tried the chocolate tuxedo, which was not my favorite, but was still a quality dessert. Finally, we tasted the marble, which tasted exactly how I imagine walking on a cloud would feel.
Everyone can expect quality cupcakes and good service from Babycakes. I will definitely be returning soon to taste more of what this establishment has to offer.