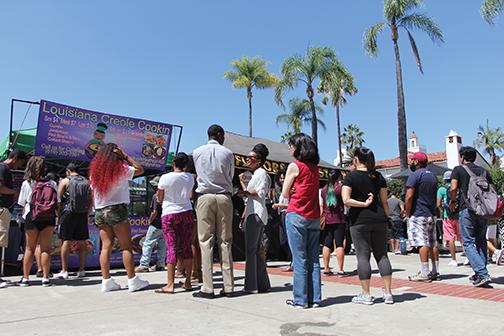 Farmers' markets are just about 50 shades of green. They thrive in California because of the optimal conditions for growing fresh produce. However, markets in San Diego are so much more than a retailer of organic fruits and vegetables. They have grown to support local businesses of artisanal foods, ethnic delicacies, crafty handmade items and more.
Here are some of The Daily Aztec's favorite local farmers' markets.
SDSU Farmers' Market
Thursdays, 10 a.m. to 3 p.m., between Love Library and Hepner Hall
Where else to begin if not in San Diego State's own backyard? There are over 20 vendors at the market, ranging from ethic foods to vegan delicacies, such as the Walk & Guac combo from The Guac Shac, or signature chipotle chicken quesadilla from Belinda's Cocina. The newest addition to the market offers produce from a local farm, validating the SDSU's farmers market as, well, a farmers' market. Not hungry? Check out the used record vendor or have your bicycle repaired at The Bike Stand, an SDSU organization that believes in biking towards a sustainable environment.
There's Enviro-Business Society, a student organization that has been working with Aztec Shops to bring the farmers' market to SDSU since 2009.
Favorites: Belinda's Cocina, J Wok, Flavors of East Africa, Made in Brazil Snack Foods and Crepe's Up!
Little Italy Mercato
Saturdays, 8 a.m. to 2 p.m., W. Cedar & India streets
The Little Italy farmers' market is definitely a San Diego favorite. It has more than 150 booths that offer a variety of farm fresh produce, craft items, and artisan foods. Patrons may want to skip lunch before heading over; the generous amount of free samples will be sure to fill you up. The produce at Mercato ranges from fruits and vegetables, herbs, nuts, cheese, eggs and more from certified California producers. Other vendors such as Baba Foods Hummus, Bitchin' Sauce, CA Cheesecakes and Laguna Salt Co. offers natural complement to your healthy diet. The list continues with a variety of items including jewelry, silverware, apothecary, apparel, books and soap. While in local business heaven, don't forget to check out the live music.
Favorites: Pacific Beach Peanut Butter, CA Cheesecakes in a Cup, The Cinnamon Spoon, Power Up Smoothies and Paradise Valley Ranch (Avocado Lovers).

North Park Farmers' Market
Thursdays, 3-7 p.m., between 32nd Street and Herman Avenue, south of CVS
The farmer's market at North Park is serious business. There are currently 16 vendors who are farmers that grow their own produce in California, most of which are USDA certified. Aside from the mandatory free samples, the North Park Farmers' Market is welcoming with its diverse community and culture. Similar to Mercato, the produce range from cheese at Spring Hill Cheese to Meljess Bees bottled honey to locally raised pork, chicken, beef, rabbit and other meat and poultry products at Da Le Ranch. If you're not in the mood for food, the Hidalgo Flower Growers are sure to brighten your day with their range of beautiful flowers. Finally, if you're looking for a change, the crew at Greenfix Organic Smoothies will gladly oblige you with a vegetable shot made of dark leafy greens, organic fruit, organic apple juice, and/or organic flax seed.
Favorites: Nibble Chocolates, La Jolla Bamboo Boutique, Masala Cottage, Hopkins AG, Mokoko, African Sisters Farm and Greenfix Organic Smoothies.
 Hillcrest Farmer's Market
Sundays, 9 a.m. to 2 p.m., Lincoln Street and Normal Avenue
The farmers' market at Hillcrest, an eclectic and vibrant neighborhood, is also one of the largest. It has more than 175 vendors on any given Sunday, supporting a variety of local businesses. The market is located in the DMV parking lot in Hillcrest and is essentially a foodie's paradise. However, a happy mind and body accompany a happy stomach, and the market provides just that. Patrons can de-stress and relax your mind with the Active Rest Chiropractic services, Elivelife spa promotions or massage therapy with Morea Garcia and Mariah Guillot. There are almost 50 arts and crafts local businesses that provide handmade wood furniture by Nouveau Designs, replicas of the artistic signs that welcome visitors all over the city by Signs of San Diego, and a variety of apparel (some are even organic!). Finally, the market is dog friendly (as is the rest) so be sure to stop by Puppy Love where canines are treated to some handmade edibles.
Favorites: Skinfolk, Eddie With Whimsical Hats, Raw Revelations, Doggus and Pupusas, Asana Foods, Sweet Tree Farms, La Isla Ceviche and Charlie's Best Bread.
Other local farmers' markets:
College Avenue Farmers' Market on Wednesdays, 2 p.m. to 6 p.m.
La Mesa Certified Farmers' Market on Fridays, 2 p.m. to 6 p.m.
Gaslamp – Third Ave Certified Farmers' Market on Sundays, 9 a.m. till 1 p.m.
Pacific Beach Certified Farmers' Market on Saturdays, 8 a.m. till noon.
For a full list of farmer's markets, visit here.