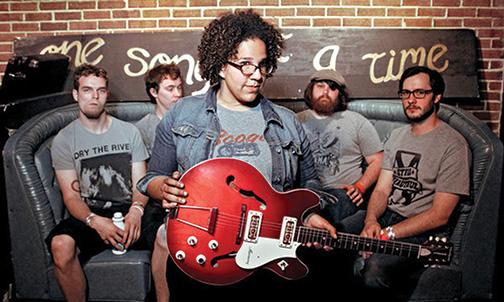 Alabama Shakes doesn't hold back a thing to get its message across.
The southern four-piece first captured national attention in 2012 with its debut album, "Boys and Girls," with passionate, open-hearted blues rock. Track titles like "I Found You" and "Be Mine" from the record give an impression of the emotional nakedness found in the band's music. The rock group will soon bring its heartfelt songs to San Diego State when it performs at the Cal Coast Credit Union Open Air Theatre at SDSU Aug. 12.
Currently, Alabama Shakes is hitting the road across the U.S. playing songs from its second album, "Sound and Color," released this April.
With its introductory phase out of the way, the band loosens the bolts of its traditional blues rock sound in its sophomore record. The music gets dirtied up with guitars and vocal takes of frontwoman Brittany Howard sounding rougher around the edges.
The rougher production fits well with the themes Howard sings about throughout "Sound and Color."
Personal doubts plague Howard as she struggles to keep holding on and nervousness often fills her lyrics. In one of the album highlights, "Dunes," she feels anxiety from a conflict-ridden relationship.
"I don't know whose f—k to give," Howard sings in the chorus of "Dunes." "I think I'm losing it."
Part of Alabama Shakes' success owes to its frontwoman's voice – one mighty howl that hits straight to the gut. While "Boys and Girls" showcased how well she can deliver hot-blooded passion, "Sound and Color" shows how the same voice can translate anxiety in a powerful way.
Though somber in spirit, "Sound and Color" includes more than a handful of upbeat tunes, which points to the band's new approach to crafting songs that move with a looser groove. In the song "Don't Wanna Fight," for instance, Alabama Shakes kicks off some of its professional sharpness in exchange for freedom to wild out. The switch to more raw takes in the album seems like a necessary creative process, considering the trouble laced in the lyrics of "Don't Wanna Fight."
As great as "Sound and Color" sounds on record, the live-show experience best suits the album's emotional power. A few YouTube videos, such as performances at Capitol Studios or the KEXP studios, attest to how the band's performance and live energy add to the blood-pumping music. It's especially a delight to witness the music come alive through Howard, who internalizes the song through both her singing and guitar-playing. Alabama Shakes improved by tuning its music to recreate the rawness when played live in "Sound and Color," so it only makes sense to experience the new songs performed on a live stage.